NORTH
LIVERPOOL AIRPORT PARK SMART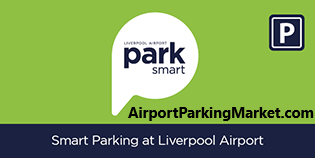 Park Smart Liverpool Airport
Car park information
On Airport
Things to know
Official on-airport parking
You keep your keys
Short walk to terminal
Park Mark Award (Police Approved)
No Transfers required
Why book Park Smart Liverpool Airport?
On-airport
No Booking Fee
You keep your keys
Great Value Airport Parking
24/7 manned security, CCTV
Walking time 5 - 7 minutes
Airport approved operator
24-hour staff
ANPR (Automatic Number Plate Recognition)
Barrier-controlled
Anti-Covid Measures
Fully Tarmaced Car Park
Perimeter Fence
100% Secure
Night Patrols
Barrier on entry and exit
This car park is cancellable
This car park is amendable
Car park address
Park Smart, Liverpool airport, Liverpool, Merseyside L24 1YD
Airport Address
Liverpool Airport, Liverpool, L24 1YD
Details
Why Book Park Smart, Liverpool John Lennon Airport
Liverpool Park Smart is located just a 5-minute walk from the terminals, Park Smart Liverpool Airport is the ideal place to leave your car whilst you're away. At Park Smart (Formerly iPark), you park the car yourself and keep the keys on your getaway.

This car park has been awarded the Park Mark Safer Parking award for its extensive security features such as the security fencing, barrier control, ANPR and CCTV which monitor your car 24 hours a day.
Arrival procedure
The Park Smart entrance is well signposted at the main roundabout when you arrive at the liverpool airport, so follow signs to find it. Your registration will be read by ANPR at the entry barrier, and you'll be issued with a ticket. Head on inside and park in any space.

Transfers to and from Liverpool John Lennon Airport
No transfers required for this conveniently located car park.

Return Procedure
Simply head back the way you came and hop in your vehicle. Head to the exit barrier, which will lift once you've inserted the ticket you received on arrival, and you're free to set-off for home.

Security features:
Your car will be well looked after here at the Park Smart car park. It boasts the following security features:

Opening Times
Smar Park at Liverpool Airport is open 24/7 so you don't need to worry about not being able to get access to your vehicle when you return. When you land, just make the short 5-10 minute walk to the car park and start your drive home.

Additional Information
Commercial vehicles, trailers, and buses/coaches are not permitted. When you return from your getaway, you can use your parking ticket to exit the car park. If you have lost your ticket whilst you were away, make sure to bring a photo ID so staff can verify your identity.

Go back to Liverpool Airport Parking