NORTH WEST
Manchester Airport Jet Parks 3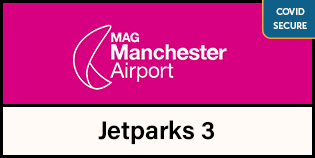 Manchester Airport JetParks 3
Car park information
Park and Ride
Things to know
Get your money back - No questions asked.
Best price guarantee
Free cancellation included
No booking fee
Park and ride service
Safe and secure
BPA Association
IPC parking community
Why book Manchester Airport JetParks 3?
Park Mark award for safer parking
24-hour staff
Security patrols
Barrier-controlled
Security fencing
Open 24 hours a day
Keep Car Keys
Entry/Exit Barrier
24-Hour Surveillance
Cameras
Transfer time 10 minutes
Car park address
Jet Parks 3 Styal Road Manchester M22 5YA
Distance to airport
1 mile from Manchester Airport
Airport Address
Manchester M90 1QX
Details
Security at Manchester JetParks 3
This car park holds the Park Mark award for safer parking which is accredited by the police.
It is manned 24 hours a day, has security fencing and 24-hour CCTV.
You park your own car and keep hold of your keys
Advanced security features, including CCTV, barrier entry, and floodlighting
Arriving at the car park
Drive up to the barrier, which will recognise your number plate and rise automatically.
If the barrier doesn't raise, press the intercom for assistance and give your booking reference.
Don't press the green flashing button as this is for customers who haven't booked.
After parking your car, board a bus to the terminal. These run 24 hours a day, take 6-8 minutes and run every 15 minutes to all terminals.
Returning to the car park
After you've collected your luggage, take the shuttle bus back to the car park.
You'll find your car waiting where you left it.
Drive to the exit barrier which will raise automatically.
If you have stayed longer than you booked then you will need to pay for the extra time.
Transfers to and from Manchester airport
Transfers run 24 hours a day, every 15 minutes and they are included in the car park price.
Transfers take approximately five to 10 minutes to reach the airport terminals.
Directions to Manchester JetParks 3
Exit M56 at Junction 5 for Manchester airport. At the traffic lights you will see the Hilton Hotel in front of you.
Follow the signs for Cheadle leaving the Hilton Hotel on your right.
At the next roundabout take the second exit, continuing down West Ringway Road.
Go down this road to the traffic lights at the Total petrol station and turn right.
Follow Styal Road for a short distance looking out for Manchester Airport Shuttle Park entrance on your right.
JetParks 3 is immediately adjacent to the Shuttle Park and will be signposted with the JetParks / Captain Parks logos.
Disabled facilities at Manchester JetParks 3
There are disabled bays available in every car park and the transfer buses are wheelchair-friendly.
Disabled parking bays are available for Blue Badge holders.
The transfer buses are accessible for wheelchair users.
Additional information
Please take a copy of your booking confirmation with you on your day of travel, as this serves as your proof of purchase
Arrivals and departures before or after booked days will incur an additional charge. This will be charged at the standard Long Stay rates.
ALL MAJOR AIRPORTS